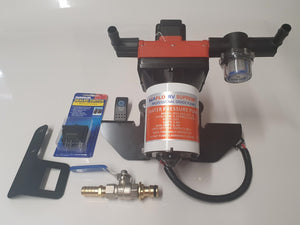 Water pump kit to suit Trig Point canopies fitted with a water tank, mounts under drivers side of canopy next to tank, older canopies may require some mounting holes to be drilled.
Comes with water pump, brackets, wiring/terminals, switch, hosing, clamps and outlet tap to suit existing tap bracket provided with tank.
Pump is a self priming Seaflow 12V unit with a 9.5 LPM flow rate and once switched on will only operate when required (when tap is opened).