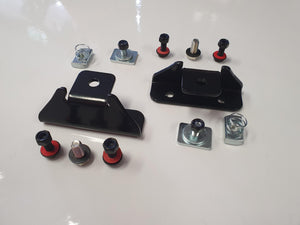 Mounting brackets for easy attachment of Rhino Rack pioneer platforms and Rhino HD cross bars, universal flat base could be great for trailers, trays, ute toolboxes and canopies.
Each kit contains a pair of brackets along with all hardware required to mount including stud plates and channel nuts to suit Rhino HD bar or pioneer platform.
1 Kit required for each cross bar, most platforms will need 3 kits.
Height of brackets is 40mm, base 110mm x 36mm, hole centres 60mm.